Thai lady investigations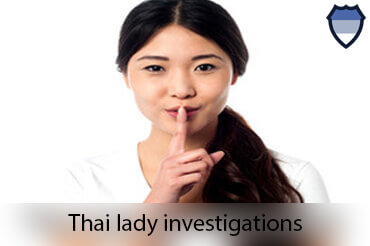 Are you involved in a romantic relationship with a Thai lady? Maybe you just met during a recent holiday in Thailand, or through internet dating. Perhaps you have been together awhile and are preparing to take things to the next level, or just starting a new romance. Whatever the depth of your relationship, you should be aware of romance scams, and take action if you suspect that your partner might be committing infidelity.
We can help to check your Thai girlfriend and confirm that she is cheating on you, or gather evidence that she is not. Checking your Thai girlfriend can help to save you vast amounts of money, time, and heartache. Without hiring a private investigator, most of our clients would never have discovered that they were being cheated on.
Different types of Thai lady investigation
If you suspect that your Thai girlfriend or wife might be cheating on you, then put us in your corner and discover the truth. We offer different forms of investigation; please let us know what type of investigation you are interested in when getting in touch with us.
Surveillance service

As part of our surveillance service we will discreetly follow and monitor the subject while gathering photos/video as evidence of their activities. Surveillance is one of our most popular services and can be used to catch cheating partners in a wide range of different circumstances.

If you require a quote for surveillance then please tell us exactly where your partner lives, so that we are able to calculate any travel time we will incur and provide you with a quote.

Background check service

Background checks can be used to check a number of different facts relating to a subject, such as their marriage/divorce history and living circumstances. We can also check their employment situation and check their criminal records.

If you are in a romantic relationship with a Thai lady that is currently married, then under Thai law you could be sued by her husband - social media posts/messages and photos can be used as evidence of your relationship. For this reason we reccomend at least checking the marital status of your partner, whether or not you decide to proceed with a full background check.

Prenuptial background checks are popular, though background checks can be utilized in a number of different cases, depending on the needs of our client.

Decoy service

During our decoy service we will approach a subject and test how they react to advances from another person. In most cases the decoy service can only be used in cases where the subject works at an appropriate venue (beer bar, a go-go, massage parlour, club). If the subject does not work at or attend any such venues then our decoy service may not be possible or recommended – we would typically use surveillance in these cases.
When you are getting in touch with us regarding a Thai lady investigation, be sure to mention the type of investigation that you are interested in. If you require our surveillance or decoy service then we will need to know where your partner lives in order to provide you with a quote – please include the location (district and subdistrict) of the assignment with your inquiry.
Thailand infidelity statistics
Thailand has been ranked as one of the most unfaithful nations, with a recent study indicating that 56% of married respondents in Thailand admitted to having an affair.
If you are a foreigner, then you should be especially wary that you do not fall victim to a romance scam; and if your partner is involved in the Thai nightlife scene (with or without your knowledge) then the odds of her committing infidelity will be even higher.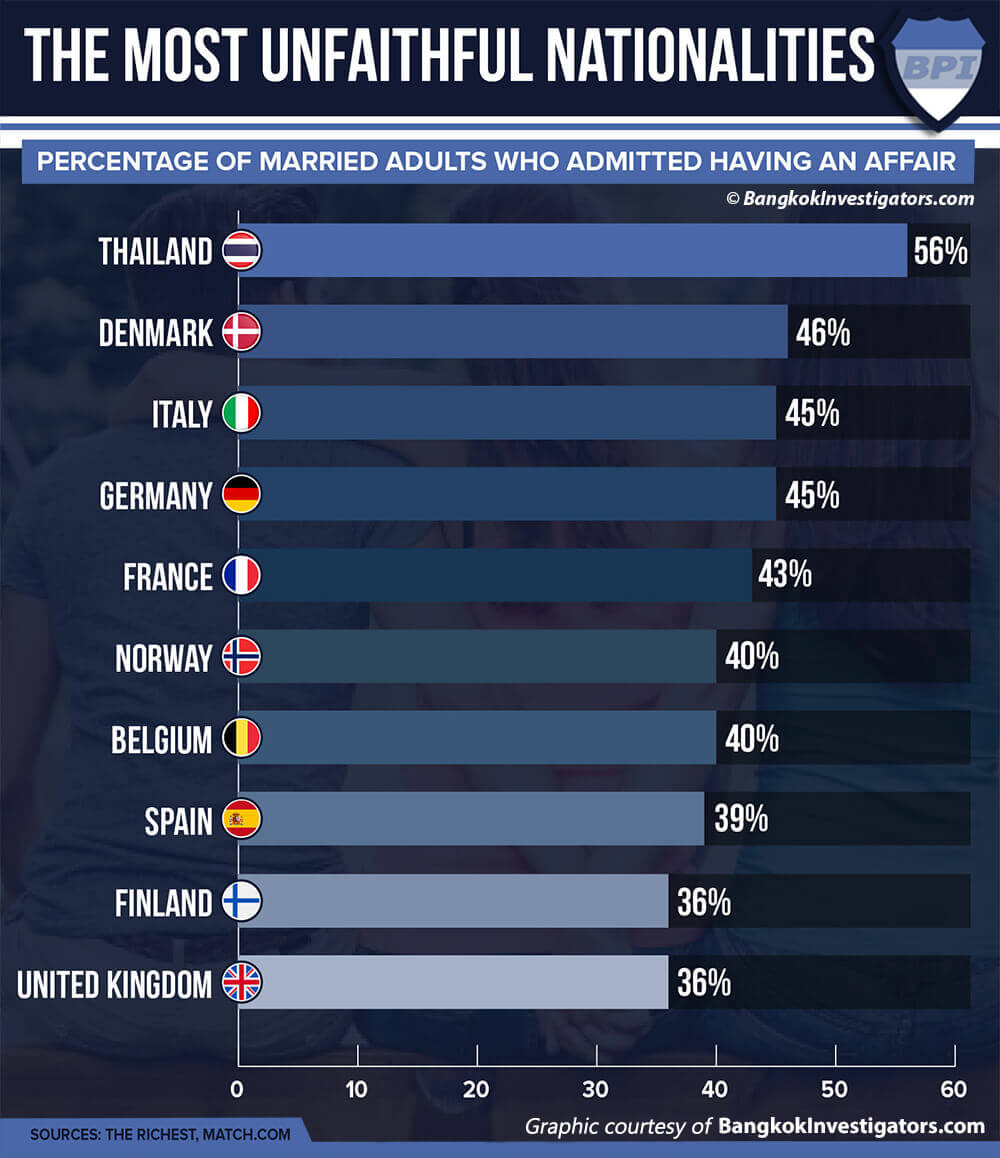 The prevalence of infidelity in Thailand means that hiring a private investigator to check your partner is always a wise decision.
Is my Thai girlfriend cheating on me?
We have seen Thai women being dishonest to their partners time and time again. Often these ladies are driven by poverty or unfortunate circumstances in their families. A common tactic is to have multiple boyfriends sending money to them at the same time, with each guy thinking he's the only man on the scene. You're probably thinking that it could never happen to you, but the simple fact is that it does happen to thousands of men every year.
Other women will involve themselves in the sex industry while they are in relationships, or even continue relationships with local men while relying on their foreign boyfriends for financial support.
If you were spending money entering into a business arrangement, it would be wise to perform your own due diligence to make sure that you're making a sound investment. With similar stakes in your Thai relationship, why wouldn't you perform the relevant checks?
Our fees are typically much lower than what it costs to support a Thai woman for a short period. For this reason, it only makes sense to verify what you've been told. We can deliver peace of mind or in some cases the cold hard truth.
Check your Thai girlfriend
Whatever situation you find yourself in with a Thai woman, we have probably heard it before. We know all of the scams and tricks used by dishonest ladies and can rely on our experience to help guide new clients. If you need to check your Thai girlfriend, get in touch with us and see how we're able to help.
We offer free, no obligation quotes for all work. Please get in touch with us today and see what we can do for you.