Thai lady investigations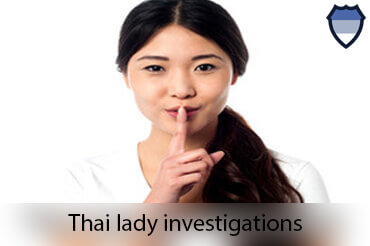 Are you involved with a Thai lady? Maybe you just met her during a recent holiday in Thailand, or perhaps you've been together awhile and are preparing to take things to the next level. Whatever the depth of your relationship, it makes sense to perform your own checks on your Thai partner, and here's why.
We have seen Thai women being dishonest to their partners time and time again. Often these ladies are driven by poverty or unfortunate circumstances in their families. A common tactic is to have multiple boyfriends sending money to them at the same time, with each guy thinking he's the only man on the scene. You're probably thinking that it could never happen to you, but the simple fact is that it does happen to thousands of men every year.
Other women will involve themselves with the sex industry while in relationships, or even continue relationships with local men while relying on their foreign boyfriends for support.
If you were spending money entering into a business arrangement, it would be wise to perform your own due diligence to make sure that you're making a sound investment. With similar stakes in your Thai relationship, why wouldn't you perform the relevant checks?
Our fees are typically much lower than what it costs to support a Thai woman for a short period. For this reason it only makes sense to verify what you've been told. We can deliver peace of mind or in some cases the cold hard truth about a woman.
Whatever situation you're in with a Thai woman, we have probably heard it before. We know all of the scams and tricks used by dishonest ladies and can rely on our experience to help guide new clients. If you need to check your Thai girlfriend, get in touch with us and see how we're able to help.
We offer free, no obligation quotes for all work. Please get in touch with us today and see what we can do for you.