Background checks in Thailand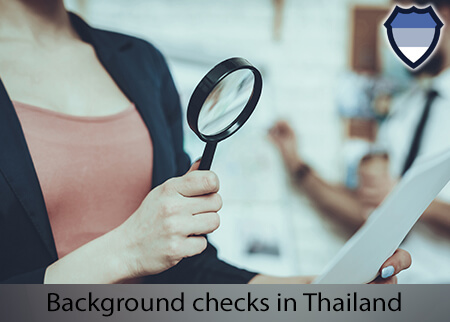 We aim to be the leading supplier of background checks in Thailand for both personal and corporate clients. Standard background checks typically reveal a number of different facts about the subject. We offer basic and enhanced background checks that can vary depending on the type of information you would like us to check. In addition to our standard checks, we can work with you to develop a custom solution where we can include different checks to suit your needs and requirements. If you require a customized background check then please let us know the different points you would like to check and we will try our best to find a solution in your case. For more information and for a free, no pressure quote please don't hesitate to get in touch with us.
Standard premarital checks or Thai girlfriend background checks typically include the most important checks, such as the full details relating to any marriages or divorces. However, we can also include a wide range of different checks depending on the areas of concern for our client.
Thailand background checks can include any of the following points:
Identity check (name, gender, age, birthplace)
Marital status
Marriage and divorce history check
Household check
Employment/education check
Criminal records check
Employment history check
Vehicle ownership and finance check
Social media check
Dating websites check
Property check
We are able to retrieve information and civil documents in Thailand for a number of different reasons. Whether you would like to a police criminal records check on a prospective employee, or running a full background check on your Thai partner or anything in-between; we are a leading supplier of background checks in Thailand for numerous agencies and law firms that are based outside the country. In order to avoid any additional fees or charges, please avoid any such middlemen and contact us directly. We offer free, no obligation quotes for all work.
Thailand pre-hire employee background checks
Pre-hire checks and Thailand employee background checks would typically include a criminal records check and a check for outstanding arrest warrants. Checking an individual's criminal background for any cases which concern matters of dishonesty is usually a wise undertaking for most business owners. Pre-employment checks can also include property/household checks, where desired. Please let us know exactly the type of information that you would like to check when getting in touch with us. If we feel that we're able to help in your case then will endevour to provide you with a free quote.
We can also provide
Criminal record & arrest warrants check
Asset check & valuation
Company balance sheets
Thai death certificates
Thai birth certificates
Marriage certificates
Site visits
… And more!

Whether you're looking to vet a potential employee, perform due diligence in Thailand, or require a premarital check on your Thai girlfriend before getting married, paperwork checks can answer many different questions.

Additionally, in business due diligence cases we often retrieve information relating to company ownership, share structure and balance sheets, as well as running reverse directorship checks.

Running background checks or retrieving documents might not always be the best way for us to proceed with an investigation depending on the unique circumstances in each case. Please include as much information as possible when getting in touch with us, we will examine your circumstances and try to come up with the best way for us to help you.

Our goal is to provide a responsive, fast service. We respond to most customer inquiries within minutes or hours. If you are interested in our background check service and have any questions, concerns, or would like a free quote, then please don't hesitate to get in touch with us.