Background checks in Thailand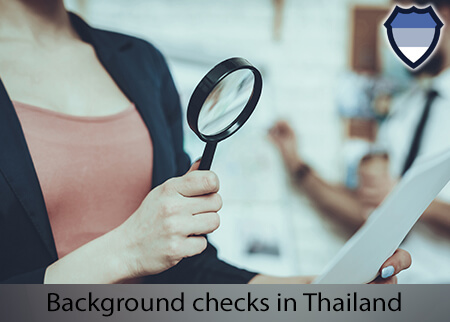 We are a leading supplier of background checks in Thailand. Standard background checks typically reveal a number of different facts about the subject. We offer basic and enhanced background checks that can vary depending on the type of information you would like us to check. In addition to our standard checks, we can work with you to develop a tailor made solution which will vary depending on the information that you're looking to uncover. For more information and a free quote please don't hesitate to get in touch with us.
Thai girlfriend background checks
Standard premarital checks or Thai girlfriend background checks typically uncovers the following points:
Identity check (name, gender, age, birthplace)
Registered address
Marital status
Children status
Employment verification
Education verification
We're able to retrieve civil documents in Thailand for a number of different reasons. Whether you would like to a police criminal records check on a prospective employee, or running a full background check on your Thai partner or anything in-between; we can help.
Thailand pre-hire employee background checks
Pre-hire checks and checks on your employees in Thailand would typically include a criminal records check and check for outstanding arrest warrants. Pre-employment checks can also include property/household circumstances, where desired. Please let us know what you would like to check when getting in touch with us and we will endevour to provide you with a free quote.
We can also provide
Criminal records check
Asset check and valuation
Company balance sheets
Thai death certificates
Thai birth certificates
Marriage certificates
Immigration/travel history checks
… And more!

Whether you're looking to vet a potential employee or want to peform a premarital check on your spouse before getting married, paperwork checks can answer many different questions.

For corporate due diligence, we often retrieve information relating to company ownership, share structure and balance sheets.

Running background checks or retrieving documents might not always be the best way for us to help you. Please include as much information as possible when getting in touch with us, we will examine your circumstances and try to come up with the best way forwards in your case.