Foreign men investigations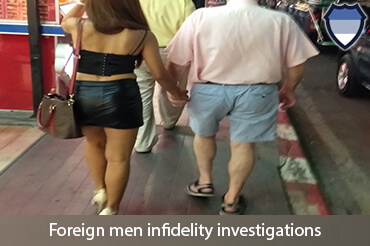 Thailand is well known as the largest hub for sexual tourism on earth. While prostitution remains illegal in the kingdom, it is tolerated by authorities as the trade bolsters the tourism industry and props up the Thai economy.
If your husband is visiting Thailand, it's highly likely that he will be paying for sex during his trip here. In fact most of the foreign men we investigate are cheating on their partners, who are usually very glad to collect evidence of this.
Many men visiting Thailand carry a false belief that women working in the sex industry here are regularly checked for sexually transmitted diseases. Sadly this is a false rumor. As prostitution is illegal, the practice is totally unregulated and there is very little incentive for bars to test the women working for them. In the quest for profit, it would be counterproductive for them to pay for this type of testing.
We typically see foreign men spending time with multiple different women during their visits here (usually at least one different woman per day). Often with this promiscuity, men visiting Thailand can become health hazards for their partners back home, who are usually unaware of their activities.
The camera never lies, and if we are able to gather evidence of a man cheating, there is nothing he can say to defend himself. We can shift the balance of power to his wife or girlfriend back home.
If your partner is visiting Thailand, it's always better that you get in touch with us before he leaves. There are often things which can be done to help prepare and make our job easier.
We offer free, no pressure quotes for all work. Get in touch with us today and we will be glad to help you. All inquiries made to us are strictly private and confidential.