Is adultery acceptable in Thailand?
July 16, 2022 - Reading time: 8 minutes
For our foreign clients that are involved in romantic relationships with Thai people, we would recommend that they perform some basic research on Thai culture, traditions, and etiquette, if they have not already done so. Understanding certain details about your partner's culture can help you to better understand their mindset and expectations for your relationship. As a leading detective agency based in Thailand, we are often asked about infidelity and whether it is accepted in Thailand.
No, adultery is not generally acceptable in Thailand, and there are stiff penalties in place for those that are caught. However, this is not to say that adultery does not occur in Thailand and attitudes towards adultery can vary depending upon who you speak to.
Some men will knowingly cheat on their wives with what they call 'mia noi's, for example. Loosely translated to "minor wife", a "mia noi" will be a lady that the man maintains a romantic relationship with in addition to his wife, for a prolonged period. While some men might find it acceptable to cheat on their partner in this way through having a long term affair, that is not to say that their actions are not without consequence if they are caught.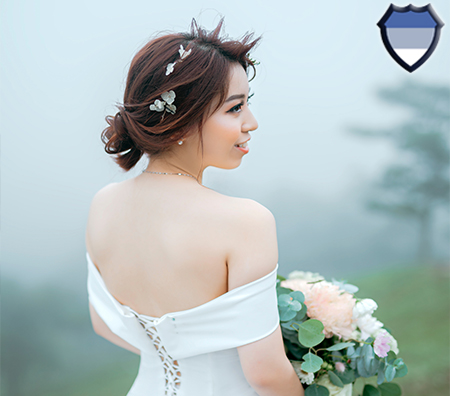 For Thai ladies that are involved in romantic relationships with foreigners, the motivation for them to commit infidelity is more likely to be financially related. The so-called 'Thai girlfriend scam', as it is known, typically involves a lady forging romantic ties with multiple different guys, who all believe that they are the only woman in her life. Some boyfriends might send money to the lady, others will only treat her to gifts or during vacations to Thailand. Of course, if you are not married to your partner then while it might be immoral for them to cheat on you, their infidelity will not be classed as adultery.
Is adultery illegal in Thailand?
Thai law protects the sanctity of wedding vows, and adultery can carry harsh penalties in some cases.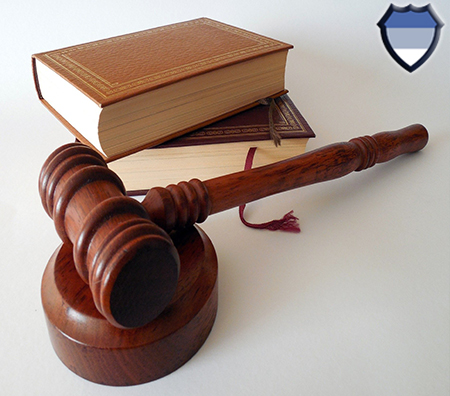 According to legal experts, if you are involved in a romantic relationship with a person that is married, then you could be sued by their husband or wife. Romantic messages and photos can be used as evidence of the relationship, and if a case is backed by solid proof then the third party can be ordered to pay financial compensation to the husband or wife that was cheated on.
The plaintiff can seek compensation by suing the other person without divorcing their partner, and then sue them again for a second time if the affair continues.
Spouses that are cheated on can also seek to be awarded child support which is deducted directly from their ex-partner's salary.
If you are concerned that your Thai partner might be currently married and would like to check their marital status, then we can help by performing a background check for you.
Is adultery common in Thailand?
According to surveys which were conducted in 2012 by dating site Match.com and condom manufacturer Durex, 56% of the Thai respondents admitted to having an affair on their married partner. This statistic ranks Thailand as one of the most adulterous nations surveyed, with Denmark and Italy coming in second and third places respectively.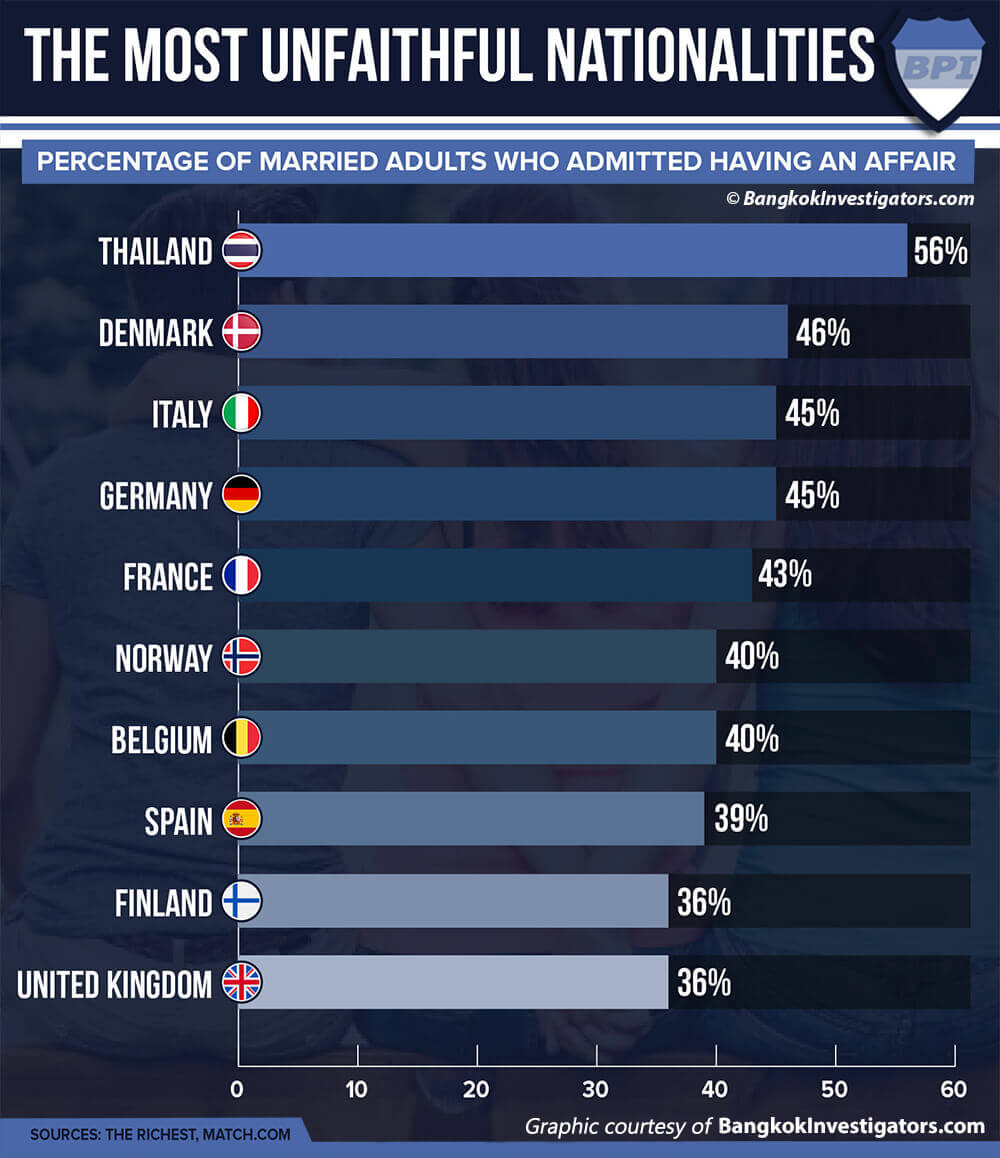 Is polygamy allowed in Thailand?
No, polygamy is not allowed in Thailand. It is reported that polygamy was an acceptable practice in Thailand for centuries until it was banned in 1935, just three years after the Siamese Revolution.
Is marriage important in Thailand?
Yes. Marriage is important in Thailand and in Thai culture. Traditionally, some Thais are thought to believe that a romantic relationship does not truly exist until it has been denoted by marriage (or a wedding ceremony).
While many Thais favour an extravagant wedding ceremony with music and food for their friends/family, not all decide to follow up their ceremony by visiting their district registrar and officially registering their marriage. While those getting married in Western countries tend to always register their marriages, this is not always the case in Thailand and some are happy to forego registration of their marriage after holding a wedding ceremony.
Is marriage important to my Thai girlfriend?
Of course, the answer to this question will vary depending on your girlfriend and her own personal beliefs. In the past, we have heard the excuse from cheating Thai ladies that "we weren't even married, so the relationship was not serious". Some Thais do believe that a romantic relationship is not 'bona fide' until a wedding ceremony has taken place.
As in many other countries, marriage (or a wedding ceremony) can be used to share the news to the lady's community that she is now committed to a serious relationship.
Often a 'dowry' or 'sin sod' will be paid to the bride's family by the groom during their wedding ceremony. A dowry payment will typically consist of a pile of cash and gold, property/land deeds can also be included as part of a dowry payment or even an expensive vehicle. The dowry will be displayed for all to see during the wedding ceremony, which can help to increase the lady's 'face' and make the couple appear to be prosperous. The payment has been described as compensation to the bride's family for taking their daughter out of their household. Once this payment is made to the bride's family, it is usually not refundable.
How can I tell if my partner is cheating on me in Thailand?
Finding out for sure whether your partner is actively cheating on you in Thailand can be very difficult or impossible in some cases. Especially if you are not currently in Thailand and your partner is; or if you cannot understand the Thai language, then finding out whether infidelity is taking place in your relationship might prove to be a real challenge.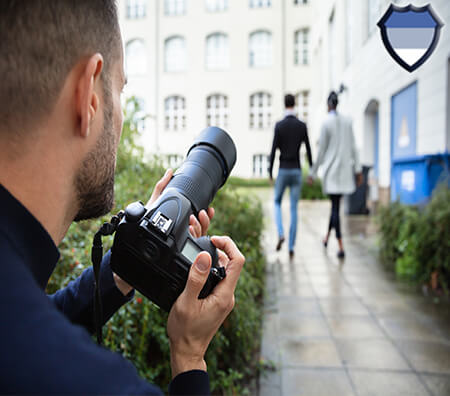 As a leading detective agency based in Bangkok and covering all areas of Thailand, we have often helped our clients to check their partner's activities in Thailand. Whether you need us to perform a Thai lady investigation, a background check, or investigate a cheating husband in Thailand, we can help. Please visit our homepage to learn more about us or contact one of our experienced team members for a free quote - please remember to include the exact location of the assignment and all relevant details when getting in touch with us.
Related articles
Sources: Thai PBS