How to get married in Thailand as a foreigner
August 25, 2023 - Reading time: 12 minutes
The process of getting married in Thailand as a foreigner is relatively straightforward, provided you have conducted some research in order to understand the necessary steps. While some may choose to hire an agency to help with the process of running around and collecting the necessary documents, getting married in Thailand can be done yourself, 'DIY' style and without the need for paid help.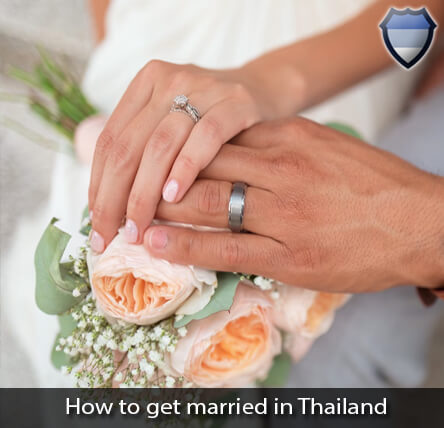 So, how is it possible to get married in Thailand as a foreigner? We will explore the necessary steps in this article.
1. Obtain an 'Affirmation of Freedom to Marry' document
In order to get married in Thailand, foreigners require an 'Affirmation of Freedom to Marry' document also known as 'an affirmation of martial status'; which is a document stating that you are currently unmarried in your home country, and are therefore free to get married in Thailand. This document can usually be obtained from a local registry office in your home country, or through your country's embassy in Thailand.
The process of obtaining a 'Affirmation of Freedom to Marry' document will vary depending on which country you come from, and the requirements of your embassy (if you intend to obtain the certificate locally in Thailand). Check your embassy's website for information on their requirements and the process.
The 'Affirmation of Freedom to Marry' is not usually free, with most embassies charging around 3,500 THB for the service. The British embassy, for example, currently charges 2,860 THB. 
Note: You will also require a certified copy of your passport from your embassy, which will also need to be translated into Thai.
2. Have your documents translated 
Once a 'Affirmation of Freedom to Marry' document has been obtained from your embassy, it will need to be translated into Thai by a reputable translation company, along with the certified copy of your passport. 
If you obtained your freedom to marry certificate in Bangkok, then most embassies tend to be in the Wireless Road area; and you can find translation shops within walking distance. There are translation shops inside Mahatun Plaza which is near by, for example.
OR you could choose to have your documents translated at the Ministry of Foreign Affairs instead, however this option might be more costly.
3. Authenticate your translations
Once your freedom to marry document and your certified passport copy have been translated, they will then need to be authenticated by the Ministry of Foreign Affairs.
Department of Consular Affairs
The Legalisation Division
123 Chaeng Wattana Road, Laksi District, Bangkok 10210
Phone: 02 575 1056 59,  02 981 7171
Once you're at the Ministry of Foreign Affairs, take the escalator up to the third floor, turn right and walk up the stairs. Then go to the desk straight in-front of you and hand in your affirmation to marry document, its translation, along with your passport copy and passport translation.
Be aware that the staff take a lunch break at 12PM and return at 13:00. You will need to collect a ticket with a queue number and wait for your number to be called. If you arrive shortly before lunch then you might need to return after lunch at 13:00.
4. Register your marriage
Once you have your authenticated 'affirmation of freedom to marry' document along with a translated copy of your passport, you will then be ready to collect the other necessary documents and register your marriage at a district office.
In order to register a marriage, the following documents will typically be required:
Your passport/visa with two copies of each
Your fiancee's ID card (for Thai citizens) with two copies
The Letter of Affirmation of Freedom to Marry (the original plus the translation with copies of both)
The translation of your passport stamped by the MFA
Your fiancee's Tabien Baan (house book) (for Thai citizens) along with two copies
Two witnesses will be required. Rules can vary depending on which district office you use - so call your local district office and ask about their requirements. It could be helpful to bring a couple of Thai friends with you, or family members in some cases. If you decided to hire an agent then your agent might act as your witness instead.
5. Translating a copy of your marriage certificate
Once your marriage is complete, you will typically be issued with two marriage certificates. The certificates themselves are written in Thai script and feature a border of roses.
If you are a foreigner, then you might find it useful to obtain a certified translation of your marriage certificate in your country's native language. The translated certificate might come in handy should your partner decide to apply for a Western visa in the future, or, if you have a child with your partner then a translated marriage certificate may help in order to apply for your child's first passport.
Of course, if you just intend to use the marriage certificate for official purposes within Thailand (such as applying for a Thai marriage visa), then just the Thai language certificate itself should suffice.
Where can I get married in Thailand?
You will need to register your marriage at the nearest available district office. In Bangkok, you can choose between the district offices in Lak Si, Bangrak or Huay Kwang. These offices may require appointments to be made in advance, it is therefore advisable to call them beforehand in order to check this and their requirements/waiting times. Different district offices may also have different requirements regarding witnesses; getting in touch with your office of choice directly is your best bet when it comes to finding the most up-to-date info.
List of district offices in Bangkok
Lak Si District Office
999 Chang Watthana 10 Alley, Thung Song Hong, Lak Si, Bangkok 10210
Phone: 02 982 2081
Bang Rak District Office
5 Naret Rd, Si Phraya, Bang Rak, Bangkok 10500
Phone: 02 236 1395
Huai Khwang District Office
2 Pracha Uthit Rd, Huai Khwang, Bangkok 10310
Phone: 02 277 9100
If your partner is from a rural area or a small town, then you might find there to be shorter waiting times at the district office in their hometown, rather than in a city such as Bangkok... It would be a good idea to call your local district office and check with them regarding the waiting times and their requirements before deciding how to proceed.
Is it possible to get married in Thailand in one day?
Yes, it certainly could be possible to complete this process and get married in one day; however, whether or not this will be possible will depend on how busy the relevant offices are and how soon they are able to process you.
Are background checks necessary before getting married in Thailand?
A news article published in 2018 (source) claims that foreigners seeking to marry Thais may now be subject to criminal background screening. However, whether or not you will be subject to a background check may vary depending on your local district office - we suggest contacting your local district office for up to date information on their requirements.
While it is not compulsory, private investigators in Thailand can help to perform a premarital background check on your partner. We can check a number of different factors relating to your partner, which can help allow you to make an informed decision before taking the step of getting married. Premarital background checks have the potential to help mitigate the risk of financial loss through romance scams; they can also allow you to fully understand your partner's history and life before taking the step of getting married to them. 
If you are interested in running a premarital background check on your partner, then free to get in touch with us for a free quote.
What is a Thai village wedding?
A 'Thai village wedding' is a traditional Thai wedding ceremony which takes place in towns or villages of Thailand. The event is taken seriously and usually attended by friends, family, along with local monks and village elders. The bride and groom dress in traditional Thai attire, with the ceremony lasting all day and usually including a large feast for all attendees.
While some people in Thailand may choose to mark their relationship with a village wedding, the wedding ceremony itself does not create a legally binding marriage unless it is followed up with a visit to the local district office in order to register the marriage.
If you are intending for your partner to obtain a Western visa in future, then you may need to register your marriage in a district office rather than purely holding a 'village wedding' ceremony. 
Are pre-matrimonial background checks common in Thailand? 
As a leading detective agency based in Thailand, we find that more and more of our clients are choosing to perform premarital background checks on their partners before taking the step of getting married. Clients that have previously fallen victim to infidelity or romance scams tend to be especially diligent in future relationships; with many seeking peace of mind that everything is fully above board and that their partner is truly being honest with them about their circumstances.
With money and finances an increasing part of most marriages, performing checks on your partner can also help to safeguard any future investments that you might make during your relationship.
We are able to check a number of different factors relating to your partner in order to check their history. Romantic background checks can be used whether or not you are currently considering marriage.
Are prenuptial agreements necessary in Thailand?
Prenuptial agreements are not required, however they may be considered in order to safeguard assets during a potential breakdown of the marriage in future. Depending on your country of origin, it could be necessary to have two prenups in place for both your home country and Thailand. Prenups are not a 'be all and end all' solution to all cases, and it is important to understand their potential limitations if you decide to go down the path of asking your partner to sign one prior to marriage.
In Thailand, the default rule is that your partner could be entitled to 50% of anything which you acquired after getting married - assets which you already had prior to getting married are usually exempt.
If you need information on prenuptial agreements, or on any other matter, then it would be highly advisable to consult with a lawyer that specialises in the relevant field of law. The information provided on this website serves as a rough guide for general informational purposes and does not constitute legal advice.
Related articles