Hiring a nanny or housekeeper/maid in Thailand
August 27, 2021 - Reading time: 9 minutes
Many foreigners that decide to relocate to Thailand will take the step of hiring a Thai nanny or housekeeper/maid. The cost of labour in Thailand is generally lower than in Western countries, and this is especially true for menial work. Hiring a nanny or housekeeper here, to help look after children, or for help with housework, is an affordable luxury for many expatriates.
Allowing a stranger into your home, and trusting them with your children or belongings is a big deal for many people. As a detective agency, we are occasionally asked to investigate thefts which were thought to have been committed by domestic workers. As such, we have put together this article on hiring nannies, housekeepers or maids, with a focus on safety and diligence.
Salary for a nanny or housekeeper/maid in Thailand
How much does it cost to hire a nanny/housekeeper or maid? When hiring staff in Thailand, you will obviously need to pay them at least the minimum wage, which varies depending upon the Thai province you are based in. A housekeeper would typically earn slightly more than the minimum wage, and salaries for nannies are understandably higher, depending on the duties you require them for.
If your nanny is looking after a new born, then expect to pay them a higher salary than if they are tending to older children. It's also normal for English speaking workers to come with a slightly higher price tag.
Although there are many variables at play when hiring domestic workers, the following chart can help to act as a rough guide: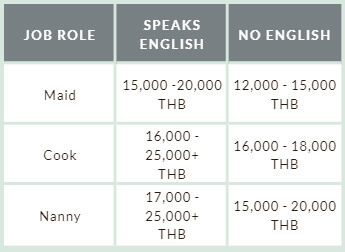 Many factors can influence salaries, such as the area of Thailand you are in, as well as your worker's past experience, the duties they will be expected to carry out, and the level of English spoken by them.
Safety when hiring a nanny or housekeeper
This is a subject that you will not see broached in most other articles on the subject of hiring workers in Thailand. However, we feel it is important to be mindful when allowing strangers into your home, and that you take suitable steps to protect yourself should anything go awry.
For starters, whenever you are employing a Thai nanny, maid, or housekeeper, you should ask them to provide you with a copy of their Thai national ID card. 
Whether or not you decide to sign a formal contract with your worker, you should always retain a copy of their ID card. This is perfectly normal for employers in Thailand and your nanny or housekeeper should have no issues with providing a copy of their ID card.
If you have any issues with your nanny or housekeeper down the road, such as theft from your property, then your copy of their identity card will prove vital. However, be aware that counterfeits are easy to come by in Thailand and fake ID cards are common, especially for migrants that might not in the country legally. In areas such as Khaosod Road for example, vendors can be found openly selling fake documents and identity cards. If you are found to be employing an illegal immigrant, then you might find yourself in trouble with the authorities.
We can help to check that the ID card is genuine by verifying it against official records.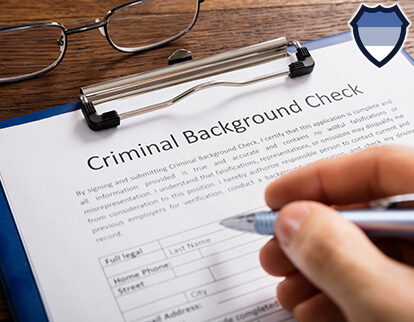 We can also help to run a criminal record check on your nanny or housekeeper in order to verify that they are not entering your home from a criminal background, and that they do not have any outstanding arrest warrants. 
Running a criminal background check on your workers is always a wise decision. If you are hiring a nanny who will be tasked with looking after your children, then we suggest it is even more vital.
Pre-employment screening is one of our most popular services. If you are on the brink of hiring a nanny, housekeeper, or any Thai staff, and would like to check their criminal records before deciding to hire, then feel free to get in touch with one of our experienced team members for a free quote. We will seek to offer the best and most affordable solution in your case.
If you choose to run a background check on your nanny or housekeeper, then you will be expected to pay for it yourself.
Tips for hiring a nanny or housekeeper/maid
Outline your requirements before hiring
Before hiring a nanny or housekeeper, make sure that they totally understand your requirements and what will be expected of them. Explain to them in detail what an average day will entail and your expectations for them. Run everything by them beforehand and don't leave anything to chance.
Paying your staff the absolute minimum amount will likely result in them leaving you for a better paid position when the opportunity arises. If you intend to retain your staff long term, and keep their morale and eagerness to work high, then award them with a good salary.
Give respect, get respect
Treat your workers kindly and with respect. Speak to them politely – it will go a long way. Be aware that many Thai people find swearing to be highly offensive. If your housekeeper or nanny goes above and beyond their duties, then consider giving them a small tip. They will appreciate the gesture.
When your staff are not working, be that out of their allotted time on a workday or during public holidays, don't expect them to carry out any duties for you. 
Many Thais leave their families to work in metropolitan areas and use public holidays to return home and visit their families. Keep this in mind when requesting them to work overtime.
Thai people are hard workers. However, not all of them are! You would be wise to check the references of your Thai nannies or housekeepers in order to learn more about their previous conduct before deciding to hire them.
If needed, we can also help to carry out reference checks for you.
Normal working hours
A full time house keeper, maid, or nanny in Thailand will typically expect to work 9 hours per day Monday to Friday with a 1 hour break each day, and half a day on Saturday. A minimum of 1 day off per week is required, though you may be able to negotiate overtime occasionally for extra pay.
In addition, your worker will also be entitled to public holidays off, such as the following:
His Majesty King Maha Vajiralongkorn's birthday – July 28
His Majesty King Bhumibol Adulyadej's birthday – December 5
Her Majesty Queen Suthida Bajrasudhabimalalakshana's Birthday – June 3
May Day – May 1 (or the Monday after if the 1st is during a weekend)
Coronation of King Maha Vajiralongkorn – May 4
Coronation Day – May 5
Songkran (water festival) 13–15 April (dates may vary slightly)
New Year's Eve – 31 December
New Year's Day – 1 January
Chulalongkorn Day – 22/23 October
This is not a full list of public holidays in Thailand! There are several other public holidays however we have listed some of the most prominent dates.
As Thai people often work long hours and with little time off, they typically relish the opportunity to rest during public holidays. You should discuss and agree upon which dates your worker will be expected to work at the time of hiring them.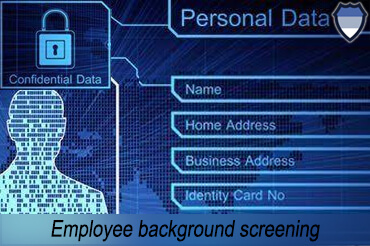 Learn more about employment background screening.