Are Thai ladies unfaithful? See Thai girlfriend statistics here
February 13, 2020 - Reading time: 5 minutes
Recent surveys indicate that 56% of the Thai respondents admitted to having affairs while married - this surprising statistic ranks Thailand as one of the most unfaithful nationalities in the world.
As a leading private investigation agency based in Thailand, we decided to compile our own statistics on the subject of infidelity in Thailand. The purpose of gathering this data was to assess how many of our clients discovered that their partner was actively cheating on them whilst we conducted our investigations.
Thailand infidelity statistics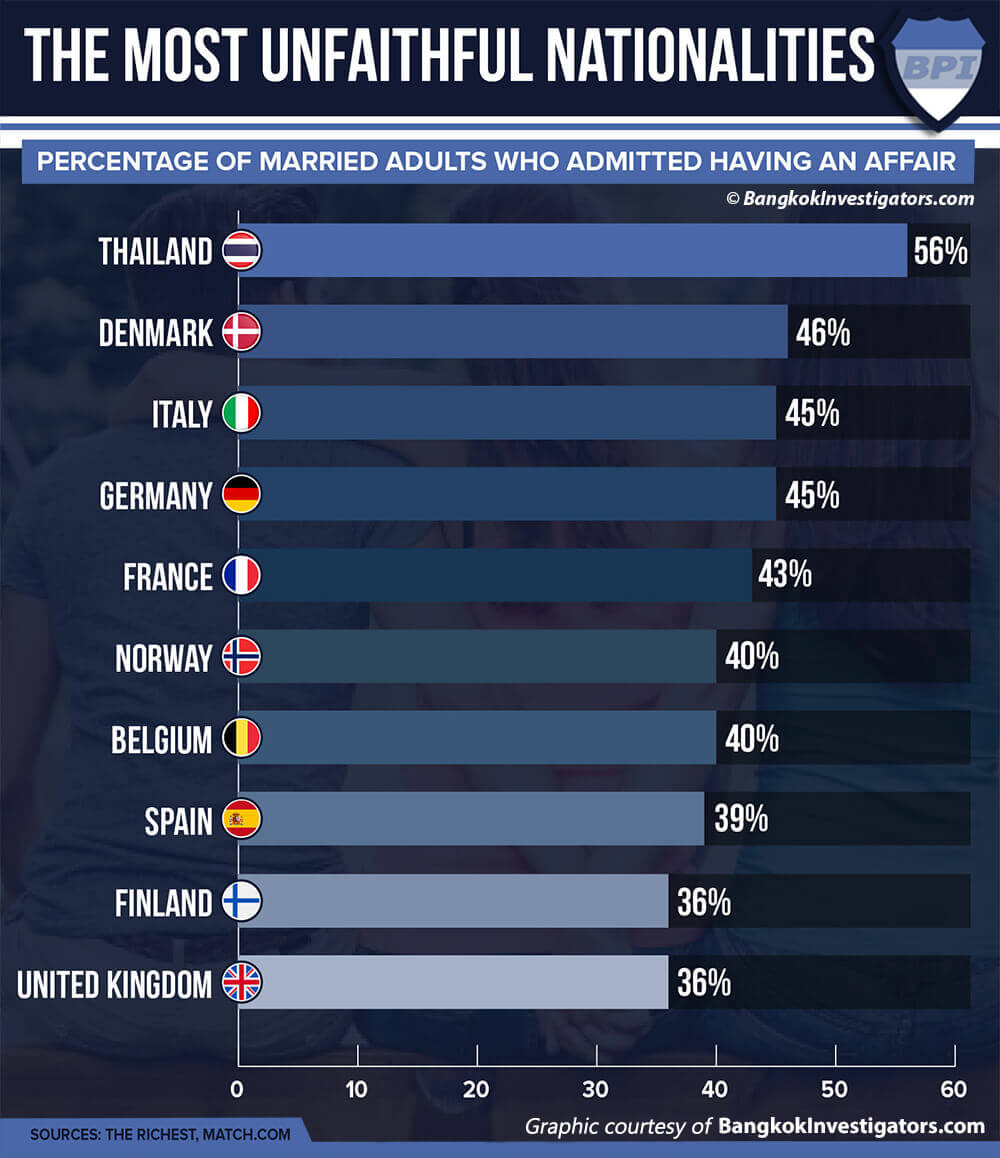 You might find there to be a lack of statistics available on Thai girlfriends or on the subject of infidelity in Thailand involving foreigners and Thai women. Compared with other subjects these topics seem to have a lack of data backed statistics relating to them (this seems to be the case with private investigator statistics across the board). With this in mind we decided to compile our own data based on infidelity related investigations carried out by our agency from the period of January 1st 2019 – January 1st 2020.
In line with our privacy policy and data protection policies, all data that was gathered in order to form these statistics was fully anonymous.
Thai girlfriend infidelity statistics
These statistics relate to all cases as a whole which involved Thai girlfriends (or wives) that were suspected of cheating on their partners. It's important to recognize that our statistics only relate to people that felt the need to engage the services of a detective agency to investigate suspicions of infidelity in their partner. Because of this, our information should not be used to form sweeping opinions relating to certain groups of people as a whole.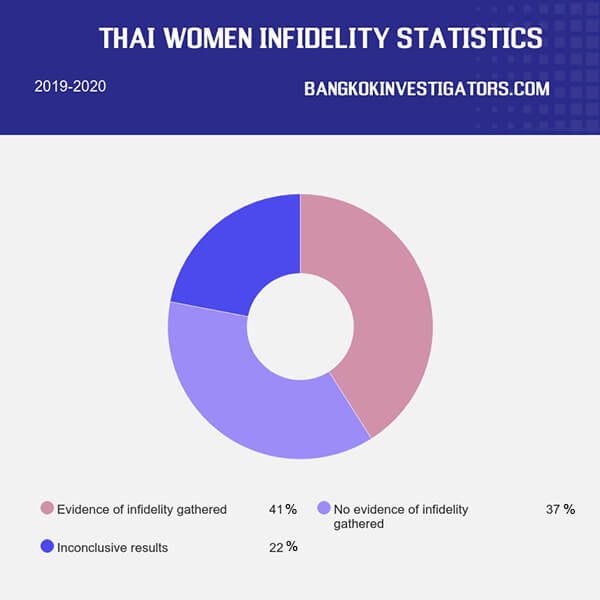 Thai bar girl statistics
These statistics relate to cases which involved Thai bar girls (women working in beer bars), also ladies working in a go-go bars and massage parlors. For our data these service industry type occupations were grouped together. This information suggests, unsurprisingly, that infidelity seems to be more likely where one partner works at an Thai adult entertainment venue.
In cases which involve foreign men and Thai ladies, we often discover that the lady works at a nightlife venue while claiming to have a legitimate job. Many of our clients would never have discovered that their partner was working in the sex industry had they not instructed us to start an investigation.
We recognize that individuals who suspect that their partner might be committing acts of infidelity are likely to seek out information such as this article (and others). We need to make clear that information available on the internet relating to infidelity should only be used as a rough guide, and should not be used to form important life decisions. 
Our experienced tells us that there will always be situations where an individual doesn't match any of the traits, stereotypes or statistics that you might find online but that is engaged in acts of infidelity. There might also be people who are cheating on their partners but that don't match any of the "warning signs" which you might find on the subject.
Our job is to investigate and find the truth. We will assess your situation and suggest the best way for us to help you. Please include as much information as possible when contacting us so that we are able to understand your circumstances. 
Is your partner cheating on your in Thailand?
If you suspect that your partner could be cheating on you in Thailand, then we can help. Our experienced detectives cover all areas of Thailand. We can help to check the activities of your partner and to gather evidence in the form of photos/video. We can also help to check your Thai partner through running a background check on them.
We offer free, no pressure quotes for all work. Please visit our homepage to learn more about us and the services that we offer; or get in touch with us and request a quote. Please remember to include the location of the case (district and subdistrict), and all other relevant information so that we can understand your situation and provide a free quote.