Tips for avoiding property scams in Thailand
August 31, 2021 - Reading time: 10 minutes
Thailand has a reputation as being a place where foreigners can be taken advantage of. There are indeed some complicated rules when it comes to foreigners purchasing and owning property in Thailand… We suggest that you fully understand the law and how to correctly navigate it for your situation before deciding to pull the trigger on a property purchase.
As a detective agency, we aim to prevent our clients from falling victim to many different forms of scam. As such, we have put together the following obvious tips which can help you to avoid property scams in Thailand:
1. Avoid buying off-plan 
Buying "off-plan" simply means purchasing a property before it has actually been built. Whether you are purchasing a house or a condominium, buying off-plan often allows for flexible payment terms – you might be able to pay a small deposit, and then make several more payments as the property is being constructed.
However, there have been many documented cases where building projects have failed to get off the ground. Perhaps the development company was not able to secure enough investment, or they ran into issues with zoning or construction permits. Whatever the issue, if construction is halted you risk losing money. We suggest avoiding off-plan purchases for this reason.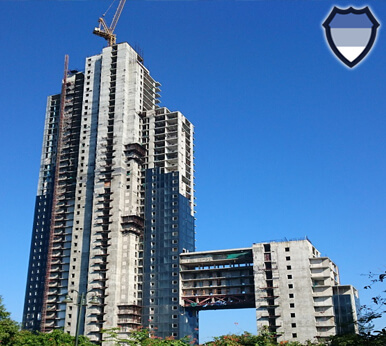 Photo: The infamous Waterfront Suites condominium building at Bali Hai Pier in Pattaya has remained unfinished and derelict for over 6 years, after city officials halted construction citing allegations that the building differed from previously approved construction designs. The building is one of numerous unfinished projects which can be found in the Pattaya area. The building stands in a prominent position besides the large "Pattaya city" sign which is embedded in the hillside.
2. Use a lawyer
You probably wouldn't purchase a property without a lawyer in your home country, so why would you act differently in Thailand? We recommend that you always use a lawyer when purchasing property in Thailand. 
Find an independent law firm – not one that was recommended by the seller or development company, and thoroughly check the reviews for your lawyer before deciding to go ahead with them. A good lawyer can help you to avoid making costly mistakes.
Do not deal with lawyers who immediately demand an up-front fee for handling your case. Pay them as you go. Up front fees can be anything from 50,000 THB up to 1,000,000 THB. Thai people do not pay their lawyers massive up front fees.
3. Be wary about holding companies
There are some exceptions, but for the most part foreigners are not allowed to own land in Thailand. Indeed, the phrase "Every inch of Thailand belongs to the Thais" is included in the first verse of the Thai national anthem.
In order to forego the rules on land ownership, some foreigners might setup holding companies, of which they will own 49%, in order to purchase land. The remaining 51% of shares will be owned by Thai people – usually nominee shareholders. You may find a lawyer or barstool lawyer that swears by this approach, and some people may use it without encountering problems, however, we would recommend exercising caution.
Make no mistake about it – setting up a holding company using nominee shareholders for the sole purpose of owning land is completely illegal. That means if your company is audited then you risk losing everything. If other shareholders conspire against you then you risk losing everything.
In recent years we have seen numerous crackdowns on the improper use of Thai registered companies, with many foreigners finding themselves in hot water.
A popular alternative to holding companies is acquiring a 30 year lease over land on which a property sits; for many expats in the later years of their lives that are retiring to Thailand, a 30 year lease will be adequate for their needs.
4. Avoid "do it all" firms
We recommend being very wary of foreigners who run offices which sell property, provide legal advice/consultancy and offer investment or insurance policies all at the same time. The adage 'a jack of all trades is a master of none' is relevant to this type of setup. It is best to find a specialist in any respective field.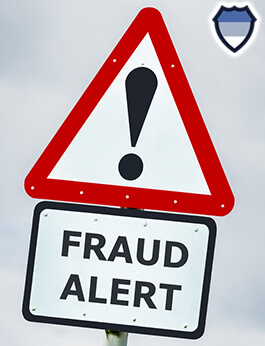 5. Check control over utilities
Whether you are purchasing a house or an apartment/condominium in Thailand, always check that the common land, water and electricity will not be controlled by the developer. Some developers will seek to profit on utilities by marking up their cost and pocketing the difference.
6. Be wary of 'foreign villages or mubans'
Bear in mind that if you buy property inside a 'foreign village or muban', that you will not have Thais to help you if the deal goes belly up. Living with foreigners is no guarantee that you will have good neighbours. It is often the reverse.
7. Be mindful when paying a deposit 
If you are paying a deposit for a house or property, then make sure that you receive a receipt, or preferably a signed contract which clearly stipulates that a deposit has been paid. Do not pay a deposit before you have received legal advice on the proposition from a lawyer.
Whenever you are parting with money in Thailand, whether for a product, service, or especially as a deposit of any type, do not expect that you will be able to receive a refund.
8. Check the surrounding area
When you are deciding to purchase a property in Thailand, be very mindful about the surrounding area. Consider taking a drive around the local vicinity during a storm – does water drain off the roads or are the roads flooded and impassable? If the road leading to your property turns into a river during heavy rain, then you may feel as though you have been scammed.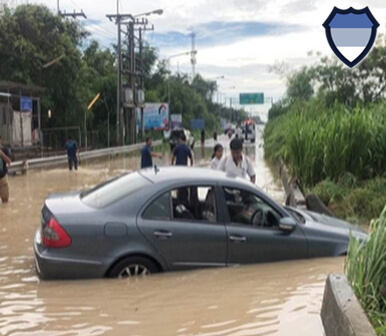 Photo: Thailand tends to experience a lot of rainfall during the wet season. Make sure that the infrastructure in your area is capable of adequately dispersing the water.
It's also worthwhile being mindful of vacant land surrounding your development. Especially in metropolitan areas, land is often bought up and developed with little notice. If your property has a sea view, could that be removed or tainted by a nearby development?
9. Speak to the local people
This may seem like a frivolous point, however speaking to the local people in any given area can often uncover many details which you would never find out by researching a property or area through the internet. Local people will be fully aware of the pitfalls of their area and any potential issues with your chosen development. Thais are friendly people and will typically be glad to share their opinions and the local gossip. Suffice it to say that you will need a Thai person to help you make these inquiries if you are unable to speak the Thai language.
This is definitely a taboo subject, however, if you are purchasing an apartment or a condominium unit on a high floor, especially in location such as Pattaya, you should be mindful that no-one has previously committed suicide in or from the unit. Most Thai people are highly superstitious and would not dream of living in a unit where a suicide has previously taken place. Even if it doesn't bother you, you might struggle to resell such a unit.
We suggest conducting your own research by speaking with other people in your building or development, in addition to the obvious due diligence checks which should be conducted by your lawyer.
10. Be skeptical of 'guaranteed returns'
If something sounds too good to be true, then it probably is. You would be wise to harbour a deep scepticism for developers or agencies which offer 'guaranteed rental returns' on property investments. Some developers may claim that they can guarantee annual returns of up to 10%, or more in some cases; which would mean recouping 100% of your investment over a decade. 
Ask yourself, what is being guaranteed and by whom? Is the guarantee being offered by a bank or financial institution, or is it being underwritten by a development company which has no real capital?
Due to the strict libel laws in Thailand, it would be deeply unwise to point fingers at specific schemes which have collapsed over the years. We suggest that the best defence in most cases is your own common sense.
11. Don't buy property in someone else's name
Last but not least, we would suggest that you never purchase a property in someone else's name, unless you accept that it will truly be their property and that they can ask you to leave at any time. If you decide to take this path, then you should at least arrange to formally lease the property back from them for however long you intend to live there.
Purchasing a property in the name of your Thai wife might afford more legal protection than if the property is placed in your girlfriend's name, however, this is a complicated legal matter for which you should seek advice from a qualified lawyer - this article does not constitute legal advice.