How much do private investigators in Thailand charge?
February 6, 2020 - Reading time: 3 minutes
How much do private investigators charge? This is in fact a very broad question. Much depends on the circumstances and where you need us to work. For example, if you need to send our detectives to the rural northern areas of Thailand then we will incur costs while travelling to such places. Our agents will need to pay for diesel or gasoline, road tolls, hotel rooms, vehicle wear and tear, and many other different factors, which will ultimately increase the price you pay. These expenses can add up and we will need to take a look at your circumstances in order to offer a quotation.
Minimum fees for surveillance cases are typically 5,000 THB in metropolitan areas such as Bangkok, Pattaya or Phuket. Other areas of the country generally incur additional travel costs. There might also be expenses related to providing surveillance in your case, please get in touch with us for a free quote.
We can also keep our fees low by using single agents to provide surveillance instead of a full surveillance team which would consist of multiple agents. However, do remember that it's almost always better to have multiple different agents working at the same time for the best chances of success in an investigation. If the subject of an investigation is using different modes of transport or we need to follow them for a prolonged period then having more people on our team can only help us during the investigation.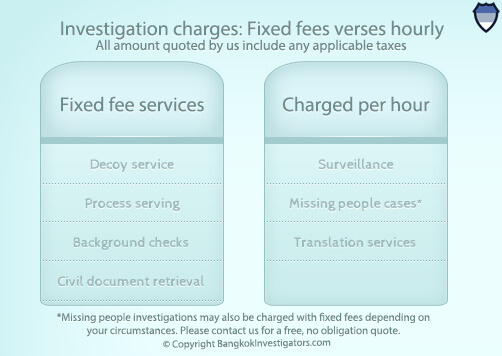 We work on a fixed fee basis or on an hourly rate basis depending on the nature of your investigation. All fees quoted by us include applicable taxes with no hidden costs or charges.
If we think that we're able to provide a cost effective and successful investigation by providing less agents then we will suggest this to you. We can also save you money by working for fewer hours, as required by you and depending on your goal and the circumstances.
As with everything in life, you get what you pay for. Cutting corners might seem like a good idea to save money, however if the result of that is an unsuccessful investigation then it might not always be the best decision. We always try to offer the most cost effective and efficient solution in any case.
Please feel free to get in touch with us for a free quote, remembering to include all relevant information and details that will enable us to consider your situation.