Buying tires from Thailand – scam advisory
April 26, 2020 - Reading time: 4 minutes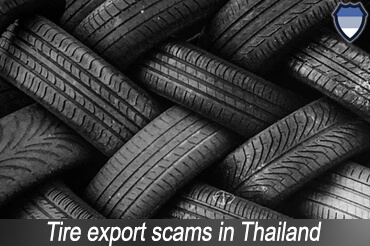 At Bangkok Investigators we endeavor to help anyone that reaches out to us wherever we can. Whether this is investigating a cheating spouse, a business dealing or a potential fraud, we don't limit ourselves to any one form of investigation and aim to assist our clients wherever possible. 
Over the past 8 months we have been contacted by approximately one dozen individuals or companies that have been the victim of scams involving the purchase of tires from Thailand. These scams are very simple and profitable for the fraudsters. They will simply setup a professional looking website, list themselves as suppliers on online marketplaces and accept orders for tires which don't actually exist.
The fraudster will typically send over a professional looking invoice; once the purchaser has paid this invoice (in full or typically 50% of the agreed price), the fraudsters will vanish. E-mails and phone calls will go unanswered and they will disappear, no shipment will be made. After some time without contact the purchaser will start to realize that they have been duped. It is at this stage that we are usually asked to step in and help. Recovering money from fraudsters in Thailand can be extremely difficult and cost prohibitive, especially if you are based overseas. 
How to spot a fake tire supplier in Thailand?
Having seen numerous instances of this scam taking place, we have been able to review many different websites, invoices and listings which have been created by fraudsters in order to deceive people that are looking to purchase tires from Thailand. These fraudsters vary in their sophistication. We have seen cases where private individuals claim to be acting on behalf of registered companies (which don't exist), other times fraudsters will actually setup limited companies in Thailand in order to make themselves appear more legitimate to their victims.
Figuring out whether a tire supplier based in Thailand is legitimate or not can be difficult. Having little knowledge about Thailand and business dealings here can make yourself more vulnerable to this type of fraud. Career fraudsters will usually have a plausible answer to any question that is posed to them… We have seen cases where fraudsters will visit legitimate warehouses or factories in order to take photos which help to make themselves appear legitimate and more convincing to their victims. In some cases the fraudsters will have websites that appear more professional than legitimate suppliers. Seasoned fraudsters will also take the time to post false reviews for themselves. 
It can be very difficult to distinguish between a legitimate vendor and a fraudster. In most cases it is possible to figure out whether or not a person/company is legitimate by conducting a site visit, examining the vendor's premises and conducting interviews. In Thailand these tasks are best suited to native Thai people.
Don't become a victim 
If you are looking to import tires from Thailand (or any product/commodity) then it is very easy for us to protect your interests by performing basic due diligence before a transaction takes place. Before you wire thousands of dollars over to Thailand for the purchase of tires, get in touch with us and have us check the supplier for you. Is the address supplied by the vendor a commercial premises, or is it a PO box? Does the address even exist? Answering these questions using Google and online searches is impossible in most cases. We would also seek to establish whether the vendor is a legitimate registered company or a sole trader. In the case that the vendor is working for a legitimate company we can procure their balance sheet and other information which can help to aid you in your purchasing decision.
Based on the number of queries that we receive relating to this scam, we can say that it appears to be very prevalent at the moment. After all, it is easy for an unscrupulous individual to claim to be a reputable tire supplier, and it is certainly very easy to fall victim to this type of scam.
Our fees for performing basic due diligence are far lower than the amount of money at stake if a transaction goes wrong. We always prefer to run checks before a deal takes place rather than after money has changed hands. Please feel free to get in touch with one of our experienced team members for help and advice.