Tourists in Thailand infidelity statistics
February 12, 2020 - Reading time: 2 minutes
In this series of posts we are going to share Thailand infidelity statistics which are statistics that have been calculated based on anonymous data gathered relating to cases handled by our detective agency from the period of January 1 2019 to January 1 2020. In line with our privacy policy and data protection policies, all information gathered during this time was fully anonymous. No identifying data is stored by us.
These statistics relate to foreign men visiting Thailand. In most cases our agency received instructions from the man's partner (typically a wife) from their home country. These men came from numerous different countries all over the world, though primarily originated from Western countries. It's important to note that these statistics relate to the activities of foreign men visiting the country and should not be used as a reflection of Thailand or Thai people.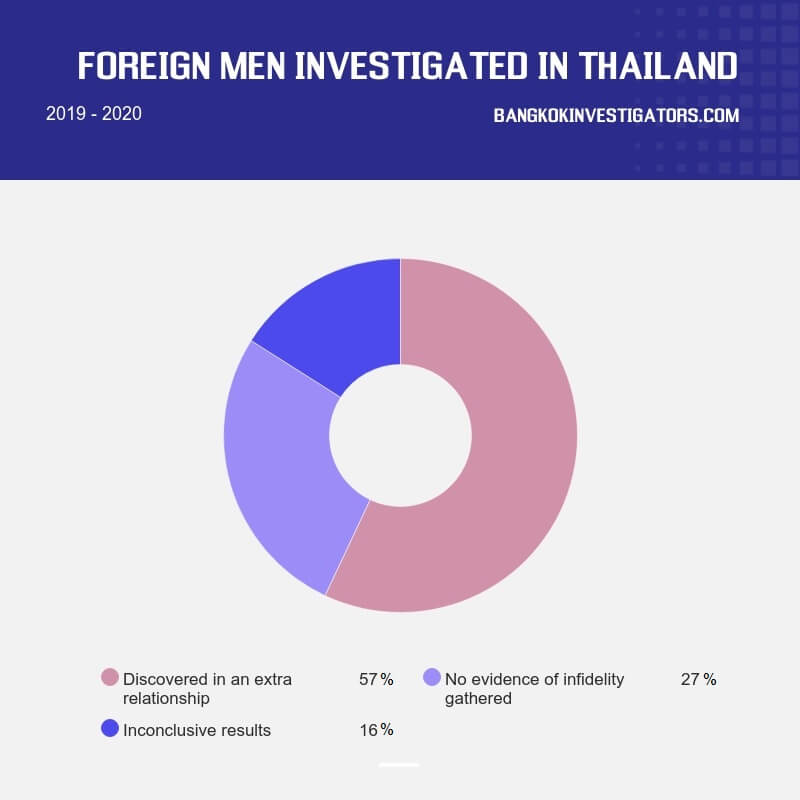 While there are little sex tourism statistics available, we believe that the information gathered by us suggests that the practice could be rife among a certain subset of men visiting the country from abroad. While it might seem amusing to come up with stereotypes, we find that these men don't fit into any one category... They cover all different age ranges, occupations and appearances. 
If your husband is planning to visit Thailand then these statistics would suggest that some of the demographic men visiting Thailand are likely to engage in the sex industry and/or extramarital relations. This should be a concern for the partner of any man that is planning to travel to Thailand alone or with his peers.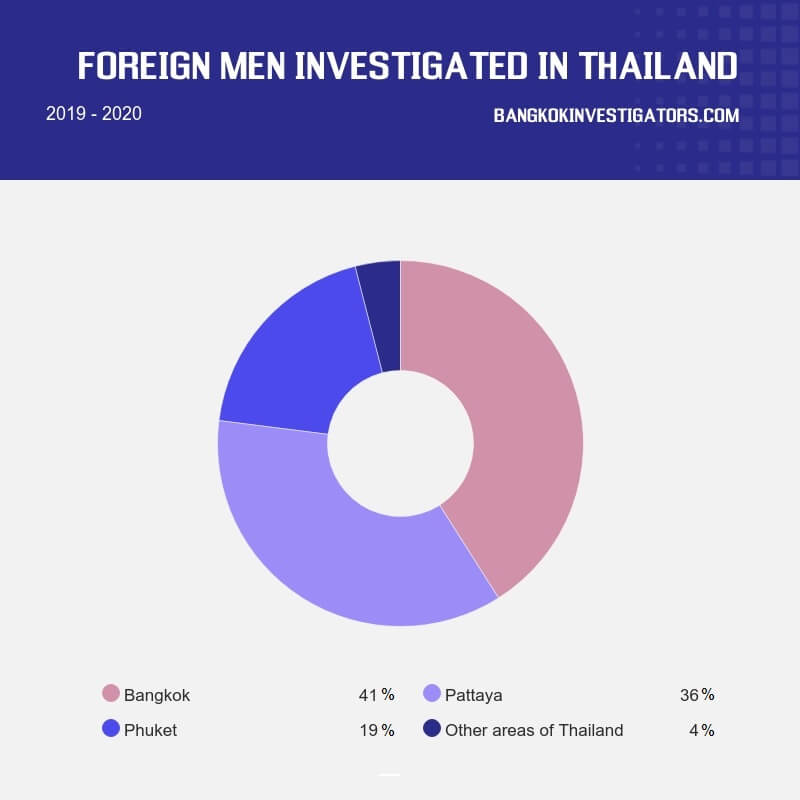 Unsurprisingly, the vast amount of foreign men caught cheating by us were visiting tourist hotspots Bangkok, Pattaya and Phuket. While we do operate in most areas of the country, we have found that cases involving foreign men usually take place in these three places, with Chiang Mai not quite hitting making the list. If your husband is on holiday in Thailand then it would be wise to consider the results of data gathered by us - the odds aren't in your favor.