Need to catch a cheating husband in Bangkok?
March 18, 2019 - Reading time: 2 minutes
Thailand is often described as the largest hub for sexual tourism on the face of planet earth. With some estimates saying there is over 300,000 active prostitutes in the country, it's no wonder that foreign men visiting Thailand often cheat on their partners back home.
Is your boyfriend or husband taking a trip to Thailand? Most of the men we investigate are found to be cheating on their partners. Time and time again we have seen that foreign men visiting Thailand are coming for one thing: sex. The sex tourism in Thailand is so massive that anyone coming here on vacation would find it hard to ignore the booming beer bars, agogo bars, discos, massage parlors, and many other seedy places used for meeting women of the night.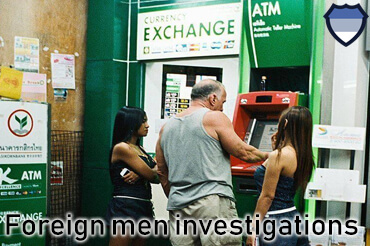 Learn more about foreign men investigations.
With reports of inadequate healthcare and lack of testing for sexual diseases, it has been said that men cheating on their partners in Thailand often become a health hazard for their partners back home.
If your boyfriend or husband is visiting Bangkok, then get in touch with us. We can help you discover what's really going on when you're not around. We are always happy to help and offer free no pressure quotes for all work.